165€ half-day / 260€ full day. Length: 2h-2h30.

Departure from Alpaga or the village. Tailor-made hiking or with themes according to your wishes. 
Possibility to do hiking + the visit of a bovine farming + milking + tasting of Beaufort (cheese). Also possible: hiking + lunch + visit of farms in the mountain pasture.
From 1 to 8 people. Accessible to children.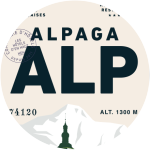 Alpaga
★
★
★
★
★
☆
☆
☆
☆
☆
4.84 / 37 ratings
Hiking (tailor-made, theme)